Home

Professional

Contact

Alternator Tips

Starter Tips

DC Electric Tips

About Rebuilt Parts

About us

Model A Alternators



About Us



Bob began experimenting with electricity in grade school after his dad showed him how to make a magnet from a piece of wire, a nail and a battery.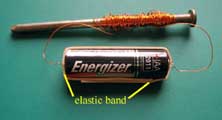 Later he began working on cars as a teenager. "In those days, if you wanted to drive, you had to be able to fix your own car." That evolved into helping friends fix their cars, and later doing minor repairs to earn extra cash.
He attended the University of Florida and earned a degree in Journalism (1971)
He worked in the public relations department of Daytona International Speedway (1972)
He served three years in the US Army (1972-75).
Following discharge, he spent three years in retail management (1975-78).
In 1978 he left retailing to help manage an auto electric shop.
In 1980 he opened B&H Electric in an area of Jacksonville near the Naval Air Station.
Bob has over three decades of experience repairing automotive electrical systems and rebuilding a variety of alternators and starters for all types of cars, trucks, equipment and marine engines.