Home

Professional

Contact

Alternator Tips

Starter Tips

DC Electric Tips

About Rebuilt Parts

About us

Model A Alternators



Professional




1. a person who is expert at his or her work
2. having or showing great skill; expert

Bob is an active member of the Electricrical Rebuilder's Association. He regularly travels out of town to attend technical training seminars to keep current with changes in automotive electrical technology and to better serve his customers. In addition, he's written numerous technical articles for industry trade publications.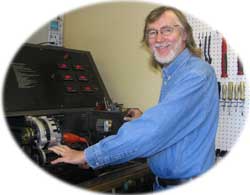 For over three decades Bob has been rebuilding a variety of alternators, starters and generators for such diverse vehicles as a 1921 Dodge Brothers Truck, 1922 Mercer Raceabout, 1927 Cadillac, Model A and Model T Fords, and a variety of vintage MGs, Benleys, Truimphs and Sunbeams. In addition, he has serviced Austin Healey, Acura, Alfa Romero, Honda, Fiat, Ferrari,Volvo, Isuzu, Saab, Plymouth, Audi, Daihatsu, BMW, AMC, Porsche, Saturn, Mercedes, Toyota, Chrysler, Datsun-Nissan, Edsel, Hyundai, Yugo, Desoto, Mercury, Studebaker, Hudson, Lotus, LaSalle, Marmon, Packard, Dodge, Lincoln, Kia, Simca, Chevrolet, Lexus, Buick, Renault, Oldsmobile, Lamborgini, Pontiac, Daewoo, Citrogen, Geo, and Infiniti vehicles.
B & H has earned a reputation as the number one source for high quality marine alternators and starters. We have rebuilt generators and starters for a wide array of antique cars, vintage farm tractors and aging industrial equipment. Whether it's 6, 8, 12, 24 or 32 volts, we can handle it.